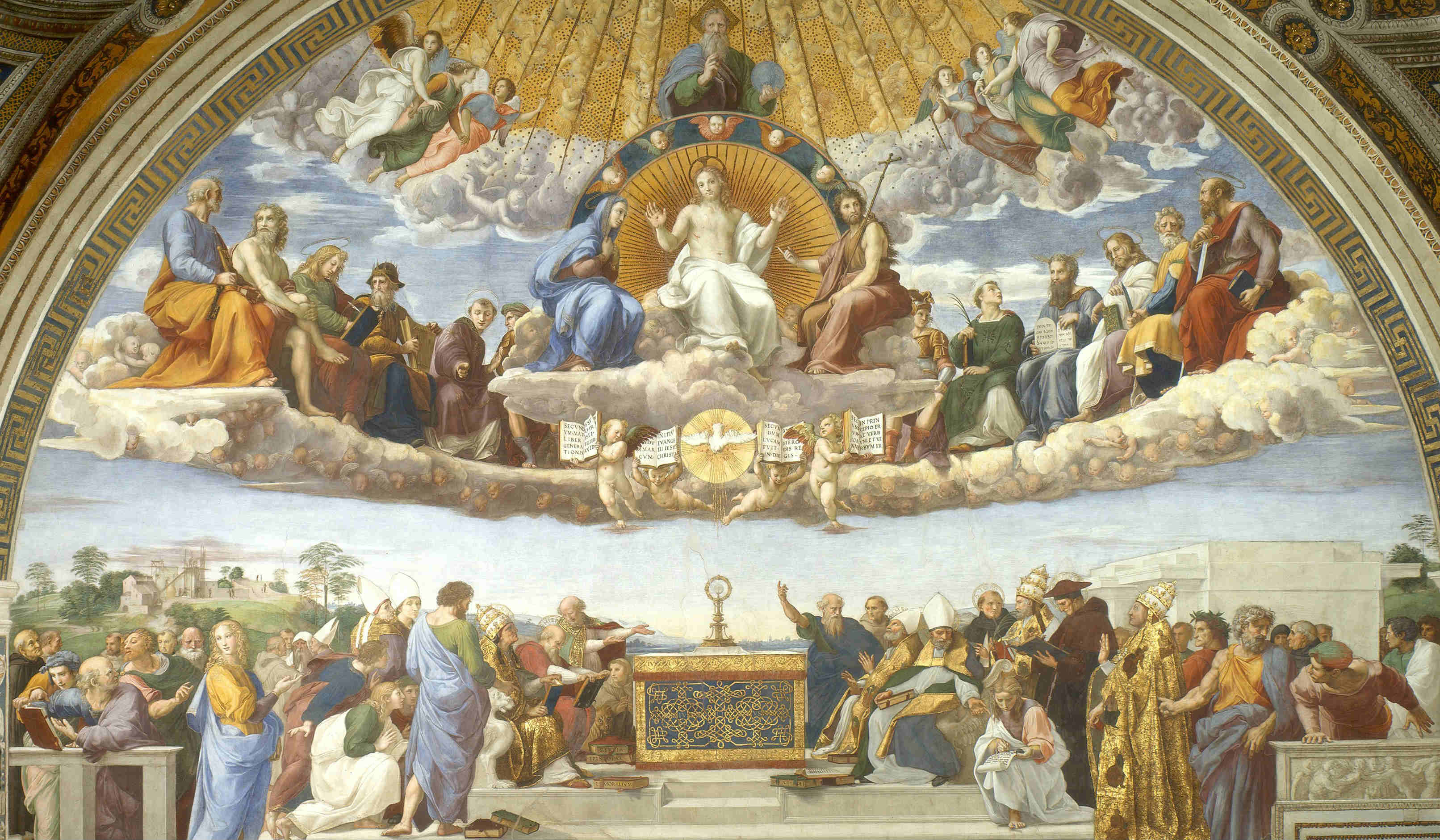 Solemnity of the Body and Blood of Christ:
Fr. Rene Butler MS
There are many instances in the Gospels where Jesus says something that is disturbing to those around him. Today's text from John is a striking example. People were not only disturbed. They were genuinely—and understandably—shocked.
Because we understand the nature of sacraments, the words of Jesus about eating his flesh and drinking his blood do not shock us today. In 1846, therefore, that could not account for the neglect of the Eucharist of which Mary complained at La Salette: "
In the summer, only a few elderly women go to Mass. The rest work on Sundays all summer long. In the winter, when they don't know what to do, they go to Mass just to make fun of religion."
Famine was looming on the horizon, and that might explain the need to work even on Sundays to try to extract whatever one could from the soil. In our first reading, Moses makes an explicit connection between hunger and dependence on God. There was a lesson to be learned in times of need.
The Beautiful Lady said, "I warned you last year with the potatoes… When you found the potatoes spoiled, you swore, and threw in my Son's name." They were far from learning the intended lesson.
But Our Lady's words about
Sunday
Eucharist did not refer to some new phenomenon. In fact, the practice of
Sunday
worship had still not recovered from the fierce
anti clericalism
of the French Revolution, which had ended just over 50 years earlier. That had been a time of true idolatry, with the official establishment of the "Cult of Reason" as the new religion whose one true god was—the people! An altar to Liberty was erected in the Cathedral of Notre-Dame in Paris.
The Apparition did not reverse this trend altogether, but ever since that blessed event, thousands of persons have rediscovered the importance and value of the Mass. We would all do well to reflect on the meaning it has in our own lives.
In 1964 the Vatican II document on the Church described the Eucharist as "the source and summit of the Christian life." Our Lady of La Salette didn't use those words, but she reminded us of that truth.
Solennité
du Corps et du Sang du Christ:
Pere Rene Butler MS
Il y a beaucoup d'exemples dans les Évangiles où Jésus dit quelque chose qui dérange ceux qui l'entourent. Le Texte de Jean que nous lisons aujourd'hui est en un exemple frappant. Les gens n'étaient pas seulement perturbés, ils étaient vraiment — et c'est compréhensible — choqué.
Parce que nous comprenons la nature des sacrements, les paroles de Jésus qui nous chargent de manger sa chair et boire son sang ne nous choquent pas aujourd'hui. En 1846, par conséquent, cela ne pouvait pas donner appui a la négligence de l'Eucharistie dont Marie se plaignait à La Salette: «En été, seules quelques femmes âgées passent à la messe. Le reste travaille le dimanche tout l'été. En hiver, quand ils ne savent pas quoi faire, ils vont à la messe juste pour se moquer de la religion ".
La famine pointait à l'horizon, et cela pourrait expliquer la nécessité de travailler même le dimanche pour tenter d'obtenir tout ce que le sol pourrait rendre. Dans notre première lecture, Moïse établit un lien explicite entre la faim et la dépendance envers Dieu. Il y avait une leçon à retenir en cas de besoin.
La belle dame dit, «je vous avais prévenu l'an dernier avec les pommes de terre... Quand vous trouviez les pommes de terre gâtées, vous juriez en y mettant le nom de mon Fils." Ils étaient loin de tirer la leçon prévue.
Mais les mots de notre Dame
a propos
de l'Eucharistie
dominicale
ne renvoyaient pas à un phénomène nouveau. En fait,
de toute façon,
la pratique du culte du
dimanche
n
e s'était toujours pas bien remis
de l'anticléricalisme farouche de la révolution Français
e
, qui avait
vu sa
fin à plus de 50 ans plus tôt. Cela avait été un moment de véritable idolâtrie, avec la création officielle d
u
«culte de la raison» comme la nouvelle religion dont l
e
vrai Dieu
était
— le peuple! Un autel à la liberté,
fut
érigé dans la cathédrale de notre-Dame de Paris.
L'Apparition n'a pas renversé cette tendance tout à fait, mais depuis cet heureux événement, des milliers de personnes ont redécouvert l'importance et la valeur de la messe. Tous, nous ferions bien bien de réfléchir sur le sens que ceci présente dans nos propres vies.
En 1964, le document du Concile Vatican II sur l'Église décrit l'Eucharistie comme «source et sommet de la vie chrétienne..» Notre Dame de La Salette n'a pas utilisé ces mots, mais elle nous a rappelé cette vérité.
(Solemnidad del Cuerpo y la Sangre de Cristo:
Padre Rene Butler MS
Hay muchos momentos en los Evangelios en los que Jesús dice algo que es perturbador para los que le rodean. El texto de hoy del Evangelio de Juan es un ejemplo contundente. La gente no solamente se sentía incomoda. Las personas estaban genuina - y comprensiblemente – sorprendidas.
Debido a que nosotros entendemos la naturaleza de los sacramentos, las palabras de Jesús a cerca de comer su carne y beber su sangre no nos sorprenden hoy. En 1846, sin embargo, aquello no podría tomarse como motivo para descuidar la Eucaristía de lo cual María se quejó en La Salette: "En verano, solo algunas mujeres ancianas va a Misa. Los demás trabajan todo el domingo. En invierno cuando no saben qué hacer, van a Misa solo para burlarse de la religión"
La hambruna se veía venir en el horizonte, y eso podría explicar la necesidad de trabajar aun los domingos para intentar extraer lo que se pudiera del suelo. En nuestra primera lectura, Moisés hace una conexión muy explícita entre el hambre y la dependencia en Dios. Había una lección para aprender en tiempo de necesidad.
La Bella Señora dijo, "se los hice saber el año pasado con respecto a las papas… Cuando las encontraban estropeadas, juraban, metiendo en medio el nombre de mi Hijo". Estaban lejos de aprender la lección deseada.
Pero las palabras de Nuestra Señora sobre la Eucaristía no se referían a algún nuevo fenómeno. De hecho, la práctica de la adoración dominical aun no se había recuperado del feroz anticlericalismo de la Revolución Francesa que había terminado hacia justo 50 años antes. Ese era un tiempo de verdadera idolatría, con el establecimiento oficial de "Culto a la Razón" como la nueva religión de la cual su verdadero dios era – ¡el pueblo!

Una altar a la Libertad fue levantado en la Catedral de Notre Dame en Paris.
La Aparición no revirtió del todo esta tendencia, pero desde aquel bendito acontecimiento, miles de personas han descubierto la importancia y el valor de la Misa. Nosotros haríamos bien es reflexionar sobre el significado que esta tiene en nuestra propias vidas.
En 1964, el documento del Vaticano II sobre la Iglesia describe la Eucaristía como "la fuente y el culmen de la vida Cristiana" Nuestra Señora de La Salette no usó dichas palabras, pero nos hizo recordar esa verdad.
Traduccion; Hno Moises Rueda MS