The last verses of the Book of Proverbs are in praise of the "worthy wife." Among other things, "She reaches out her hands to the poor, and extends her arms to the needy."
This image reminds me of a bronze statue of Our Lady of La Salette, sculpted by Brother Juan Magro Andrés, M.S., depicting the precise moment when the Weeping Mother lifts her head from her hands, looks up at the two startled children on the hillside, and holds out her hands to them, saying, "Come closer, children, don't be afraid."
Mary reached out to them in their poverty and ignorance and, through them, to her People, also materially poor, and seemingly ignorant of the depths of their spiritual poverty.
In today's parable we have a record of success and failure. Two servants are promoted for their successful investments. The third tries to justify himself, laying the blame on his master's severity; but he is rightly fired for incompetence.
We are quite willing to take credit for our well-being when all is well. But when life fails to meet our expectations, we are prone to blame. It's someone else's fault, even God's.
At La Salette the Blessed Virgin spoke twice about those who abused the name of her Son—the cart-drivers in general, then the farmers whose potatoes were rotting in the ground. By using the Lord's name they were blaming God for their troubles.
Mary tells us to look at ourselves. She speaks words we never like to hear: "It's your own fault."
In the message of La Salette, we have a record of failure and need—on two levels, material and spiritual—and a prospect of success and abundance.
The failure of crops was due to blight and bad weather. The failure of the people was on the level of faith. The Beautiful Lady draws the connection between these two kinds of poverty.
In reaching out to us, she offers a solution that we may sum up in the words of today's Psalm: "Blessed are you who fear (i.e., deeply respect) the Lord, who walk in his ways!... Blessed shall you be, and favored."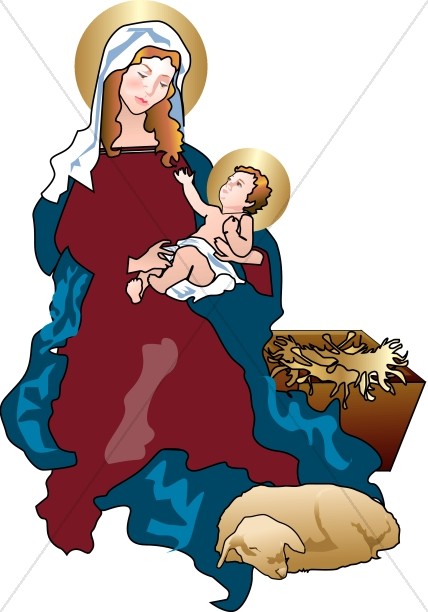 (Trente-troisième dimanche du temps ordinaire:
1 Thessaloniciens 5: 1-6,
Les derniers versets du Livre des Proverbes louent la «
femme
digne». Entre autres choses, «Elle tend les mains aux pauvres et étend ses bras aux nécessiteux."
Cette image me rappelle une statue en bronze de Notre-Dame de La Salette, sculptée par le frère Juan Magro Andrés, MS, décrivant le moment précis où la Mère qui pleure lève la tête de ses mains, lève les yeux vers les deux enfants effrayés sur la colline, et leur tend les mains en disant: "Approchez-vous, mes enfants, n'ayez pas peur."
Marie a tendu la main vers eux dans leur pauvreté et leur ignorance et, à travers eux, vers son Peuple,
matériellement pauvre
aussi
, et apparemment ignorant des profondeurs de leur pauvreté spirituelle.
Dans la parabole d'aujourd'hui, nous considérons des exemples de succès et d'échec. Deux domestiques sont promus pour leurs investissements réussis. Le troisième essaye de se justifier en rejetant la faute de son échec sur la sévérité de son maître; mais il est renvoyé à juste titre pour son incompétence.
Nous sommes tout à fait prêts à prendre le crédit pour notre bien-être quand tout va bien. Mais quand la vie ne répond pas à nos attentes, nous sommes enclins à trouver qui ou quoi a blâmer. C'est la faute de quelqu'un d'autre, même de Dieu.
A La Salette, la Sainte Vierge parla deux fois de ceux qui abusaient du nom de son Fils, les charretiers en général, puis les fermiers dont les pommes de terre pourrissaient dans le sol. En utilisant le nom du Seigneur, ils blâmaient Dieu pour leurs problèmes.
Marie nous dit de nous regarder nous-mêmes. Elle dit des mots que nous n'aimons jamais entendre: "C'est ta faute."
Dans le message de La Salette, nous avons un bilan d'échec et de besoin - à deux niveaux, matériel et spirituel - et une perspective de succès et d'abondance.
L'échec des cultures était dû au
dépérissemen

t
et au mauvai
s temps. L'échec du peuple était au niveau de la foi. La Belle Dame établit le lien entre ces deux types de pauvreté.
En se tendant vers nous, elle propose une solution qui peut se cueillir dans le Psaume d'aujourd'hui: «Bénis êtes-vous qui craignez (c'est-à-dire, respectez profondément) le Seigneur, qui marchez selon ses voies! ... Bénis serez-vous et favorisé. "
Traduction: Paul Dion
Proverbios 31:10-31;
1 Tesalonicenses 5:1-6;
Mateo 25:14-30)
Pe Rene Butler
Los últimos versículos del libro de los Proverbios son una alabanza a la "esposa digna", quien entre otras cosas, "Abre sus manos al necesitado y extiende los brazos al pobre"
Esta imagen me trae a la memoria una estatua de bronce de Nuestra Señora de

La Salette, esculpida por el Hermano Juan Magro Andrés MS, que muestra el preciso momento en el que la Madre en Lagrimas aparta su cabeza de las manos y dirige su mirada a los niños asustados que estaban al lado de la pendiente, les extiende las manos diciéndoles, "Acérquense hijos míos, no tengan miedo"
María se acercó a ellos en su pobreza e ignorancia y, por medio de ellos, a su Pueblo, también pobre materialmente, y aparentemente también ignorantes de la profundidad de su pobreza espiritual..
En la parábola de hoy tenemos un registro de los éxitos y los fracasos. Dos servidores son promovidos por sus exitosas inversiones. El tercero trata de autojustificarse, echándole la culpa a la severidad de su amo; pero en seguida es echado fuera por su incompetencia.
Somos bastante propensos a darnos el crédito por nuestro bienestar cuando todo va bien. Pero cuando la vida nos juega una mala pasada y nuestras expectativas fallan, tendemos a echar culpas. Es culpa de alguien más, incluso de Dios.
En la Salette, la Santísima Virgen habló dos veces a cerca de aquellos que hacen mal uso del nombre de su Hijo – los que conducen las carretas en general, luego los granjeros con sus papas arruinadas sobre el suelo. Al usar el nombre del Señor, ellos estaban culpando a Dios por sus problemas
María nos invita a mirarnos a nosotros mismo. Ella pronuncia palabras las que nunca nos gusta oír. "Es culpa de ustedes"
En el mensaje de La Salette, tenemos un registro de error y necesidad – en dos niveles, material y spiritual -

junto a una expectativa de éxito y abundancia
El fracaso en los cultivos debido a la plaga y al mal tiempo. El fracaso de su pueblo estaba en el ambiente de su fe. La Bella Señora nos hace ver la conexión entre esos dos tipos de pobreza.
Al acercarse a nosotros, ella nos ofrece la solución que podríamos resumir en las palabras del Salmo de hoy: ¡Dichoso el que teme al Señor y sigue sus caminos!... "Serás dichoso, te irá bien"
Traduccion: Hno Moises Rueda MS