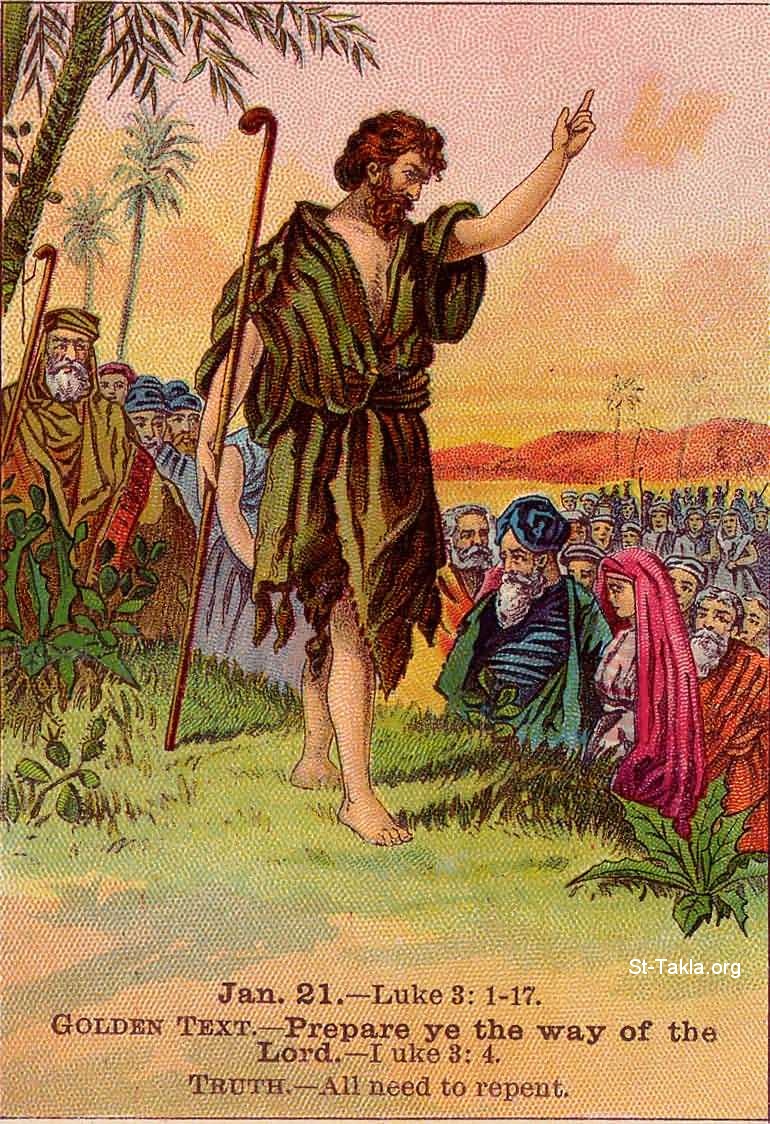 Isaiah 40:1-11;
2 Peter 3:8-14;
Mark 1:1-8)
Fr. René Butler MS
In 1972, when I was a seminarian studying in Rome, my parents came to Europe and we traveled to the Holy Mountain of La Salette, which is about a mile above sea level.
We took the bus from Grenoble (about 700 feet above sea level) along a narrow, winding and increasingly steep road. My poor mother was terrified, and stared at the floor of the bus for much of the trip! She would surely have preferred that the valleys were filled in and the mountains made low!
In the ancient East, new roads might be built in anticipation of a monarch's visit, or at least the old roads repaired. It's not unlike the modern custom of a red carpet.
Isaiah's call to prepare the way of the Lord had nothing to do with physical mountains and valleys. His concern, like that of John the Baptist, was the fact that the ups and downs and rough places of our lives can at times become an obstacle to God's plan for us.
Those who go up to the Mountain where the Virgin Mary appeared, encounter the same message: a call to repentance and the forgiveness of sins. In her message she reminds us, in simple language, of the ordinary means to achieve that aim.
John the Baptist was sent to prepare the way of the Lord Jesus. His goal was that his own disciples be ready to abandon him and follow the One who was to come after him. He took that role seriously, in all humility. In John's Gospel, he says of Jesus and himself, "He must increase, I must decrease."
Similarly, at La Salette, Mary asked nothing for herself. All she wanted was to persuade her people to follow her Son again, returning to the practice of their faith.
"Come, Lord Jesus!" is a recurring theme in Advent. It refers not only to the coming Feast of Christmas, but to the final return of Jesus in the end-time. St. Peter writes that we should not only wait for that coming, but so live as to hasten it.
As challenging as the call to conversion is, it really should be appealing to us. After all, why wouldn't we want to be in a right relationship with God?
Mary prepares the Lord's way to us, and ours to him
Deuxième dimanche de l'Avent:
Esaïe 40: 1-11,
2 Pierre 3: 8-14,
Marc 1: 1-8
Pere René Butler MS
En 1972, lors que j'étais séminariste à Rome, mes parents sont venus en Europe et nous avons voyagé jusqu'à la montagne sacrée de La Salette, qui est à environ un mille au-dessus du niveau de la mer.
(La Salette se trouve a 1 800 mètres d'altitude)
Nous avons pris l'autobus de Grenoble (environ 700 pieds au-dessus du niveau de la mer) le long d'une route étroite, sinueuse et de plus en plus à pic. Ma pauvre mère était terrifiée et regardait le sol de l'autobus pendant une bonne partie du voyage! Elle aurait sûrement préféré que les vallées soient comblées et que les montagnes soient basses!
Dans l'ancien Orient, de nouvelles routes pouvaient être construites en prévision de la visite d'un monarque, ou au moins les anciennes routes auraient pu êtres réparées. Ce n'est pas trop différent de la coutume moderne du tapis rouge.
L'appel d'Isaïe de préparer la voie du Seigneur n'avait rien à voir avec les montagnes et les vallées physiques. Sa préoccupation, comme celle de Jean-Baptiste, était le fait que les hautes et les baisses et les lieux difficiles de notre vie peuvent parfois devenir un obstacle au plan que Dieu a pour nous.
Ceux qui montent à la Montagne où la Vierge Marie est apparue, rencontrent le même message: un appel à la repentance et le pardon des péchés. Dans son message, elle nous rappelle, dans un langage simple, les moyens ordinaires pour atteindre ce but.
Jean-Baptiste fut envoyé pour préparer le chemin du Seigneur Jésus. Son but était que ses propres disciples soient prêts à l'abandonner et à suivre Celui qui devait venir après lui. Il a pris ce rôle au sérieux, en toute humilité. Dans l'Évangile de Jean, il dit de Jésus et de lui-même: «Il faut augmenter, je dois diminuer».
De même, à La Salette, Marie ne demande rien pour elle-même. Tout ce qu'elle voulait était de persuader son peuple de suivre à nouveau son Fils, en revenant à la pratique de leur foi.
"Viens, Seigneur Jésus!" Est un thème souvent répété durant l'Avent. Il se réfère non seulement à la prochaine fête de Noël, mais au retour final de Jésus à la fin des temps. Saint Pierre écrit que nous ne devrions pas seulement attendre cette venue, mais vivre de manière à la hâter.
Aussi stimulant que soit l'appel à la conversion, il devrait vraiment nous appeler a un engagement personnel. Après tout, pourquoi ne voudrions-nous pas avoir une relation vertueuse avec Dieu?
Marie prépare le chemin du Seigneur à nous, et le nôtre à lui.
Traduction: Paul Dion
Isaías 40:1-11;
2 Pedro 3:8-14;
Marcos 1:1-8 por:
Pe Rene Butler MS
En 1972, cuando era un seminarista estudiando en Roma, mis papás vinieron a Europa y viajamos a la Santa Montaña de La Salette, que está a 1800 metros sobre el nivel del mar.
Tomamos el bus desde Grenoble (a unos 215 metro sobre el nivel del mar) viajando a los largo de una carretera estrecha, sinuosa y cada vez mas empinada. ¡Mi pobre madre estaba aterrorizada, y miraba el piso del bus durante la mayor parte del viaje! Seguramente ella hubiera preferido que los valles fueran rellenados y las montañas aplanadas.
En el antiguo este, muchas carreteras debieron ser construidas con anticipación a la visita de un monarca, o al menos las viejas carreteras reparadas. No es distinto a

la moderna costumbre de colocar la alfombre roja.
La llamada de Isaías para preparar en camino del Señor no tiene nada que ver con las montañas y los valles físicos. Su preocupación, como la de Juan Bautista, era el hecho de que los altibajos y las cosas difíciles de nuestras vidas pueden algunas veces convertirse en obstáculos ante plan que Dios tiene para nosotros.
Aquellos que suben a la Montaña donde la Virgen María se apareció. Encuentran el mismo mensaje: un llamado al arrepentimiento y el perdón de los pecados. En su mensaje ella nos recuerda, en un lenguaje sencillo, de los medios ordinarios para alcanzar esa meta.
Juan el Bautista fue enviado a preparar el camino del Señor Jesús. Su objetivo era que sus propios discípulos estuvieran listos para abandonarlo y seguir a Aquel que viniera detrás de él. El cumplió ese papel seriamente, con toda humildad. En el Evangelio de Juan, el se refiere a Jesús y a sí mismo: "El debe crecer, yo disminuir"
De manera similar en la Salette, María no pidió nada para sí misma. Todo lo que ella quería era persuadir a su pueblo para que siguiera de nuevo a su Hijo, volviendo a la práctica de su fe.
"¡Ven Señor Jesús!" es un tema recurrente en Adviento. Se refiere no solamente a la próxima Fiesta de la Navidad, sino al regreso definitivo de Jesús al final de los tiempos. San Pedro escribe que nosotros no deberíamos solamente esperar por esa venida, sino que debemos vivir para apresurarla.
Tan desafiante como es el llamado a la conversión, así debería ser realmente muy atractivo para nosotros. Después de todo, ¿Por qué no quisiéramos estar en una relación correcta y cercana con Dios?
María nos prepara el camino del Señor, y nosotros para él.
Traduccion: Hno Moises Rueda MS